Cichetti
Posted on September 26, 2015
How to have a decent meal of cichetti and fragolino in Venice:
Completely ignore the hotel checkout lady who spent half an hour screaming at someone upstairs. Idly wonder what happened to the much nicer lady from yesterday who overused her "allora"s.) Signora Grumpi will claim that it's near impossible to find any fragolino in the city and that it is extremely rare.

Spend some time on your second day wandering around the city in 35°C and 99% humidity. Express half-hearted surprise at how on earth this is a such a popular tourist destination. Tell yourself that the Bridges of Königsberg have nothing on this place. Wonder if you should ride the vaporetto on the canal again like last evening.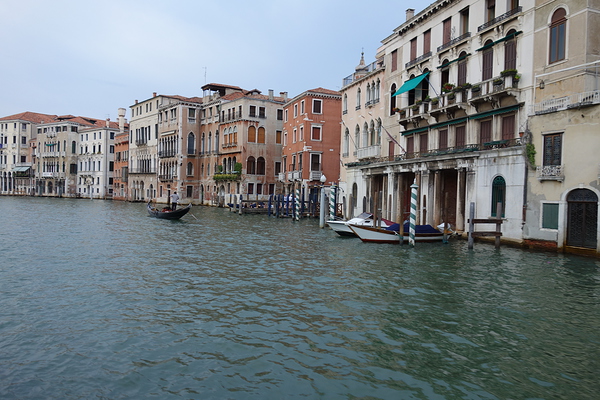 After roaming around the city in the morning, ask various places if they have cichetti or fragolino. Get mostly negative responses and "Why are you wasting my time instead of asking for the tourist trap spaghetti and mealballs?" faces. Begin to believe Sig. Grumpy might have been right. Realize that it's a Sunday and most bacari are probably closed.

Come to a place that actually has a sign saying Cichetteria near the door. Ask about fragolino in broken Italian, receive a surprised "Sì!".

Have a very reasonably priced meal full of bites of:

Baccalà — creamed salt cod)
Sepia (yep, the ink) — Cuttlefish cooked in its own ink, on a bit of polenta.
Potato-tuna balls – I forget what these are called.
Bruschetta

Repeat as necessary

Wash down with glass of fragolino, complete with strawberry aftertaste.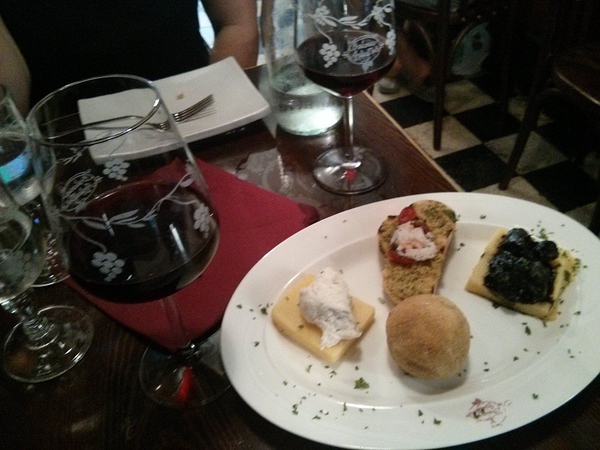 ---
❧ Suggestions, comments, etc. can be emailed to comments@mandarg.com